CNC Repair Services
When your CNC machine is down or not functioning properly, it can cripple your business and result in a large financial loss. Make sure your equipment stays in excellent operating condition with help from Worldwide CNC Parts. We are a CNC machine shop that offers tailored solutions to your repair and replacement needs, so you can minimize downtime, avoid shipment delays, and prevent customer loss.
Our technicians provide a variety of CNC repair services to meet the unique needs of our clients. We not only work on FANUC issues, but we are also qualified to repair machine-related issues. We have combined expertise of over 100 years of dealing with FANUC or mechanical issues.  
Worldwide CNC Parts
Worldwide understands that when production is your bottom line, the value of a well-working machine can't be understated; that is why we are committed to providing our customers with quality FANUC replacement parts at a competitive price. We're committed to providing our customers with high-performance CNC parts and quick service. Our technicians take great pride in returning our customers' machinery to its total working capacity as quickly as possible. We hold ourselves to the highest service standards and do whatever it takes to earn our customers' complete satisfaction. 
Repair Services
CNC machines are durable, reliable pieces of production equipment, but they can begin to show signs of age like anything else. These machines are composed of several components that experience wear due to overuse and age. If you are unsure of the best course of action, turn to our trusted CNC technicians at Worldwide CNC Parts for industrial machine repair. Our expert technicians have the knowledge and equipment needed to test, diagnose, and repair power supplies, servo amps, printed circuit boards, spindle amps, and motors. Having your part repaired by us can save you up to 60% off the OEM repair price. 
Testing and Troubleshooting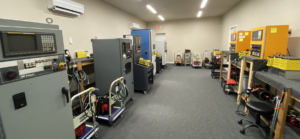 We are one of the few companies specializing in FANUC parts with simulators onsite to test parts; this means less downtime and cost for our customers. We also have a knowledgeable staff who can help troubleshoot your CNC problems; they can often be resolved over the phone... saving you money.  
Going Above and Beyond to Ensure Your Complete Satisfaction
Though there are many companies that sell FANUC replacement parts, we go to great lengths to ensure our customers' complete satisfaction. Here are just a few qualities that make us your go-to resource for new components and CNC repair services: 
Knowledgeable and Friendly

Staff

 

Fast Service

 

Simulators On-Site

 

Competitive Pricing

 

Same-Day Shipping

 

Large Inventory of New and Reconditioned Parts

 

All Parts

are

Professionally Cleaned and Tested
Entrust Your CNC Machinery to Qualified Technicians
Your CNC machines are essential equipment that enables the quick and safe manufacturing of metal and plastic products. Their accuracy ensures consistent product quality without the need for live operators to prompt and guide the machining tools. 
Because CNC machines play a vital role in your business, you need to keep them operating optimally. However, you can't rely on just anyone to handle the repairs. CNC machines are complex equipment and require the expertise of a trained professional.  
Rest assured, our technicians are fully qualified to assist you with your machinery problems. With their extensive knowledge of FANUC and other CNC machine components, they will carefully analyze the issues to identify the right replacement parts you need to buy.  
Our CNC machine shop also works with other service technicians around the U.S. to find the best solution to get your machines back in tip-top shape. 
Get Started
Contact our technicians to keep your machinery operating at full capacity with a high-quality replacement part. We proudly serve customers worldwide.